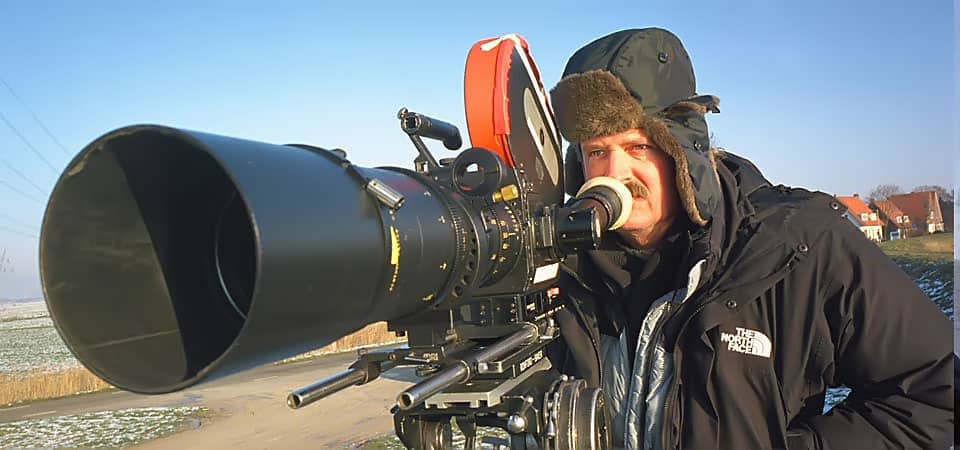 Director Pieter-Rim de Kroon has spent the past eighteen months turning the idea into a film. 'Cinema obviously imposes its own limitations, so we had to keep rethinking the concept. A lot of ideas are simply not feasible and we had to find alternative solutions as we went along. We soon discovered that film is more to do with feeling than with reason.'
Pieter-Rim learnt a lot about observation from artist Jan Andriesse's 'three commandments' for Dutch Light: time, time and more time. 'No more shaky camera work or rush jobs at the editing stage. Back to basics. And that means looking.
Obviously it's not only about beautiful light. 'Ugly' light is also functional. Grey light along the Scheveningen coast, dead light over the clay earth in East Groningen on a dismal day, leaden skies over the port of Rotterdam before a thunderstorm. And in some scenes there's almost no light at all, like in the dimly-lit museum storeroom where the film begins and ends. It's about contrasts and constantly changing light – that's what makes Dutch light special.
Pieter-Rim de Kroon (1955) graduated from the Dutch Film and Television Academy in Amsterdam in 1981 as film director and cameraman. Five years as cameraman/director for Polygoon Cinema Newsreel delivered a wide range of international experience and some 250 35mm films. He worked on productions for the Dutch Government Information Service, made documentaries on development cooperation in East Asia, Africa and the Caribbean; and attended seminars at the Academy for Motion Pictures Arts and Sciences in Hollywood, and the British Kinematographic Sound and Television Society.
In 1986 he joined leading Dutch production outfit Toonder Studios where he continued to direct international commercials, documentaries, corporate and informational films. From 1992 to 1995 he was creative director of the live action film department.
1995 he started his own production company: De Kroon, Wissenraet & Ass. focusing on prestigious corporate films on environmental topics, films for premium liquor brands and cultural documentaries, mostly 35mm. Output was extensive. In 2010 de Kroon quit his company to return to basics – creating and directing exceptional film projects.
Over the years de Kroon mastered many complex shooting techniques including high speed, motion control, time lapse, matte effects, microscopy, bluescreen, CGI, live action combinations with 2D, 3D and stop, Wescam and so on. In the words of even his critics his films have strong visual impact; they owe much to his expert visual approach: magic of cinema, lens-angels, camera choreography, filters, lighting, editing and original use of soundtrack are just some of his tools.
His work has been awarded over 130 national and international awards including numerous festival Grand Prix's.
Pieter-Rim de Kroon co-founded Windmill Film and is currently preparing a feature length documentary "A Matter of Time" on the phenomenon of time and 36 VIEWS, a feature length cinemascope documentary on Mount Fuji Japan.
In Dutch Light he watched the Dutch landscapes and the way light displays itself with sober-minded, observant eyes. In 36 VIEWS he plans to do the same. Only now he will be studying the Japanese landscape instead and the people who live in it.
Just like Dutch Light, 36 VIEWS too is inspired by the visual arts. he wants to make a cinematic equivalent of Katsushika Hokusai's '36 Views of Mount Fuji.'
De Kroon : "I do not plan to nostalgically modernise the famous series of prints, but rather I want to make a radically observant film dedicated to today's Japan, using Mount Fuji for background. "