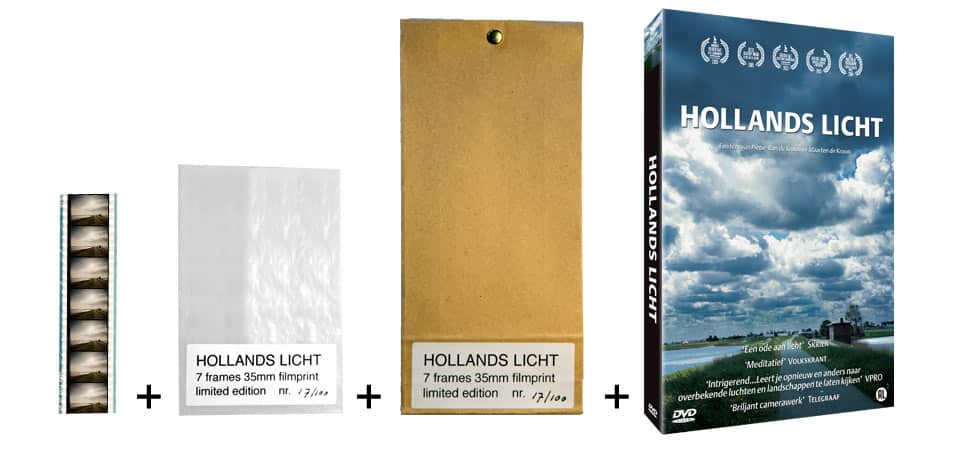 Limited edition collectors item
On behalf of the introduction of the 4K ultrahigh resolution cinema version of Dutch Light and "The End" of the traditional 35mm film print, Dutch Light Films releases a special limited edition of a series of filmstrips. 100 copie only.
Each hand numbered double envelop which comes together with the DVD contains a original strip of 7 film frames, in positive print, from one of the shots of the main location in the film, the fixed observation point on a dike at the IJsselmeer.
The film strips are personally selected by the director and hand cut on a film splicer.
Giving a extra dimension on the term "directors cut".
Of cause the original 35mm negative keeps remained, so the documentary could be still printed and projected on beautiful 35mm film in the future.
The 4K digital cinema version however will be a more common version to be shown in theatres from no on. About 90 % of the film theatres in The Netherlands will soon only be able to project in new the digital formats. 4K however is still only for the heppy few. A sad good bye to the traditional 35 and 70mm "celluloid" film print.
This limited edition can exclusively be purchased from Dutch Light Films and cost € 29,95 including the DVD.
DVD Dutch Light
LOOKING BECOMES A NEW EXPERIENCE
This box contains 2 discs. One PAL (European) and one NTSC (USA, Japan)
There's an ancient myth that the light in Holland is different from anywhere else, but it has never been put to the test. It's the legendary light we see in paintings. The German artist Joseph Beuys, however, says that it lost its unique radiance in the 1950s, bringing an end to a visual culture that had lasted for centuries. Dutch Light breaks new ground by examining this renowned but elusive phenomenon. What is Dutch light? Is the light in Holland really different from that in other parts of the world? What is true, what is myth, what is fiction? And was Joseph Beuys right? Dutch Light addresses these fascinating questions. And it is an ode to light and to observation. It turns looking into a new experience. …Dutch Light ( Hollands licht )
A film by Pieter-Rim de Kroon and Maarten de Kroon.
WITH:
Prof. Svetlana Alpers
Jan Andriesse
Jan Dibbets
Prof.dr.Vincent Icke
Dr.Günther Können
James Turrel
Prof.dr.Ernst van de Wetering
Robert Zandvliet
: art historian
: artist
: artist
: astrophysicist
: meteorologist
: artist
: art historian
: artist
VERSIONS
This box contains 2 discs. One PAL (European) and one NTSC (USA, Japan)
91 minutes original
52 minutes TV version
: English, Dutch subtitles. English or Dutch Voice Over
: English, German, Spanish, French, Dutch subtitles and Voice over
PRODUCT INFORMATION
Type disc
Format
Language
Director
Script & research
Running Time
Sound
Original format
Box
Distribution
Extra's
Special features
: One PAL disc, One NTSC disc
: PAL, 16:9
: Dutch, English & French spoken
: Pieter-Rim de Kroon
: Maarten de Kroon
: 91 minutes & 53 minutes
: Dolby 2.0 & 5.1
: 35mm negative aspect ratio 1:1.85 24fps
: Amaray
: Dutch Light Films
: Interactive menu
: 12 page booklet inside.
AWARDS
Golden Calf for best long documentary Nederlands Film Festival 2003
Nomination Golden Calf best camerawork
Best Director of Photography Festival Di Palazzo Venice Italy 2004
Audience Award European Film Festival Brussel
Audience Award Flevoland Film Festival 2004
Dutch Academy Award 2005 Best TV documentary category Arts & Culture
Third Prize. 31ste Wurzburger Filmtage Germany
Special Mention International Film Festival Munchen Germany