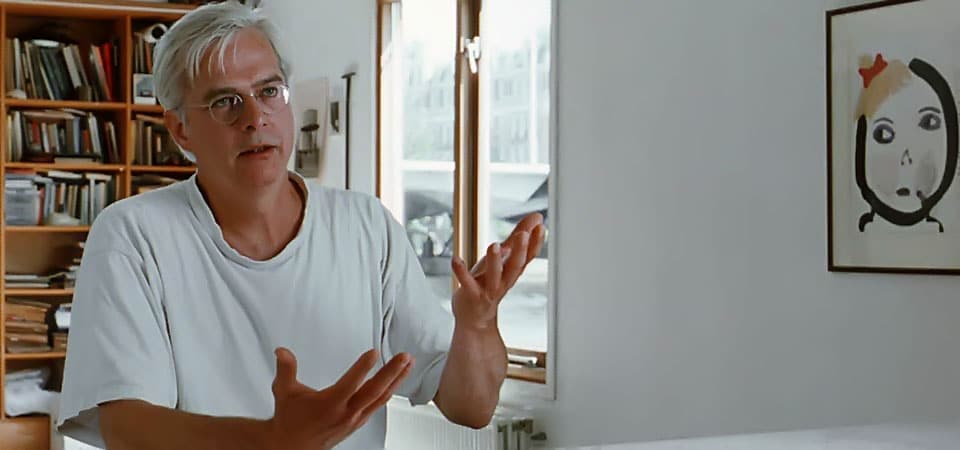 Painter of light, space and light reflections on water. A gifted observer with a fascination for light effects. Jan Andriesse spends hours in his houseboat contemplating the sparkle of light on water. His large, abstract canvases capture the changing light at different times of the day. Daylight and dusk are like oxygen and space to Andriesse, whose work combines a scientist's precision with the romance of a painter.
The bands of colour in his Rainbow (Tilburg, De Pont Gallery) blend imperceptibly into one another. The work gives expression to the ephemeral phenomena of light and colour. It was painted by daylight and should be viewed in the morning or afternoon, when the colours gleam and shimmer. Dutch light was the theme of Andriesse's Dusk exhibition, held at the Jan Cunen Museum in Oss a few years ago. Andriesse also compiled a superb exhibition of work by Jan Hendrik Weissenbruch, whom he considers the most important of the Hague School painters for his masterly treatment of light.
It was Andriesse who chanced upon Beuys's theory about Dutch light. He discussed it with a pupil who had been present when Beuys expounded his views, to confirm precisely what he had said.
On the subject of the Dutch visual tradition, Andriesse believes that science and art have evolved in relation to one another since the 17th century. He argues that the scientists Marcel Minnaert, Vincent Icke and Ad Lagendijk, a pioneer of light localisation, followed in the tradition of scholars like Christiaan Huygens, Descartes, Van Leeuwenhoek and Spinoza, all of whom, he says, formulated their theories on the basis of sound observation. Andriesse believes that the quality of the light in Holland is determined largely by water, and that change is the key to it all. Change makes people aware, and artists capture that awareness in paint.