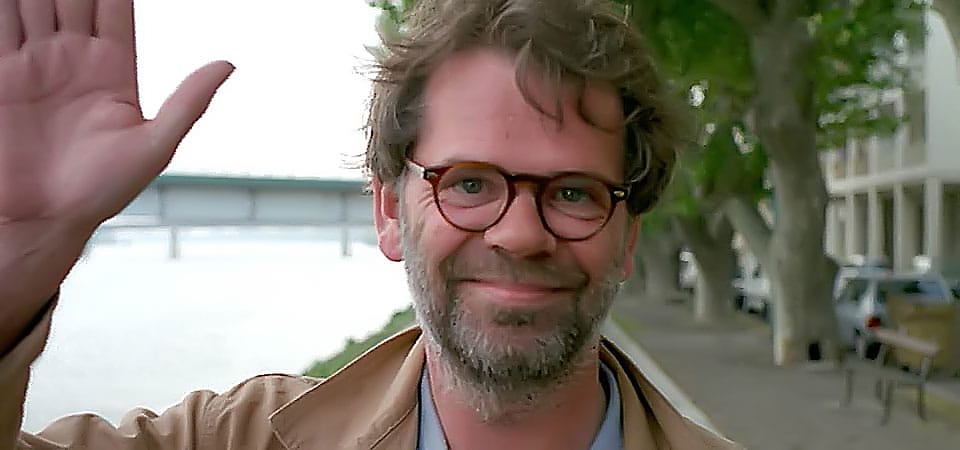 A script is a starting point, it's not carved in stone. This kind of documentary has to evolve along the way, both before and during the shoot. We might decide to use different images because of something that happens, or something someone says in an interview, or because of what emerges from Vincent Icke's study. It will keep changing right up to the editing stage. The script just prevents us from straying too far from the plot.
The film as it finally emerged is a conceptual documentary made by two brothers with the assistance of a superb team on both the technical and academic sides. Its strength, hopefully, lies in the right combination of the two. Gerrit Willems and I first started talking about it in 1989. We then discussed it with Edy de Wilde, a former director of the Stedelijk Museum, and were profoundly influenced by his ideas about light, painting and the film.
Dutch Light opens with De Wilde's comments about the importance of natural light for painters. And it was he who put us in touch with Jan Andriesse. A keen observer, De Wilde taught us, through his exhibitions, how to look at things properly. The film owes a great deal to his input. Without him, we would never have thought of the stunning 360-degree pans over the dike and the green belt.
If the film manages to convey the sensation of observing and make people aware of light, we will have accomplished our goal.
Maarten de Kroon (b. 1959) studied journalism in Utrecht and publishes articles on classical music and other subjects in leading newspapers and journals, including Het Vaderland, Trouw, NCR Handelsblad, De Tijd, De Journalist and Magazijn.
Maarten started writing film scenarios in 1982. He wrote the screenplay for director Olivier Koning's documentary Terbeschikkinggesteld, which took the Golden Calf at the Dutch Film Days, São Paulo SP, and the documentary series Passies, which was also awarded a Golden Calf. Maarten also worked on Bevruchting achter Glas with Hilde van Ostrum and, in partnership with his brother, Pieter-Rim de Kroon on Contrast, Duurzaam land, Promise, Portraits, Onderweg and Holland – Point of View.